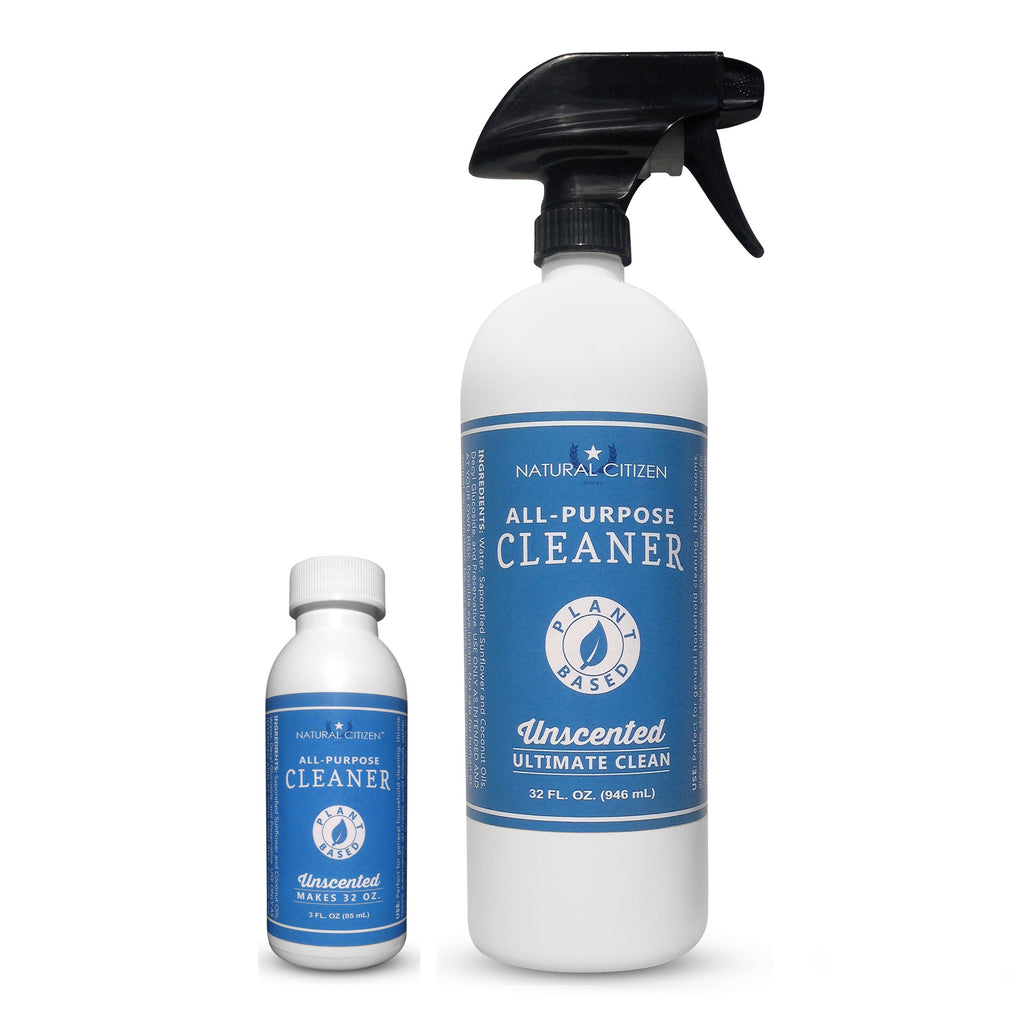 Plant-Based All Purpose Cleaner – Starter Bundle
The Ultimate Clean with Less Waste & Expense
One Full 32-oz Bottle & One Refill
Get started using our powerful unscented plant-based cleaner with the Unscented Starter Bundle. Plant-based all purpose cleaner by Natural Citizen is the ultimate clean and is perfect for cleaning your entire home, office, or anywhere you care about – without the added fragrances. Our mighty plant-based cleansers break down dirt and grime without harsh ingredients. When you run out of product, simply pour one refill back into the empty bottle and fill with water. Our refills save waste, money, and storage space.
The ultimate plant-based clean
The bundle includes one full bottle of cleaner with an ergonomic sprayer
The bundle also includes a convenient refill for a back-up supply
Feel free to customize your clean by adding your favorite blend of essential oils
Scent: No added fragrance
Tips & Tricks
Our all purpose cleaner will clean stainless steel and glass but will probably streak, so is not recommended
If you plan to customize your scent with essential oils, start with 5-10 drops, and increase from there
On porous surfaces like synthetic leather or wood, test on a small area first
Refill Instructions: Pour the entire contents of the refill into the empty bottle. Slowly add water until the bottle is full. Allow foam to settle, if any, and top up. 
Ingredients: Conditioned water, saponified sunflower and coconut oils, decyl glucoside, and preservative.
Enjoy safe and secure checkout through Shopify and quick, reliable shipping with North America's #1 e-commerce fulfillment center. All orders are backed up by our 30-day money back guarantee.
Almost smudgy like!
There is an 'odd' natural smell. Besides that, it does not seem to clean as well as say, Shakley. It leaves a filmy residue. Almost smudgy like!
I like that is a concentrate and has no chemicals
Cleans very well. I like that is a concentrate and has no chemicals.
worth trying!
Cleans very well. Just add a few drops of your favorite essential oil and it will smell great!
I am loving this product! I was making my ...
I am loving this product! I was making my own vinegar based cleaner but my husband couldn't stand the smell so I did some research and came across Thai product. I have a one year old and food often ends up in our white carpet and this works wonders at getting it out completely without a trace anything was ever there. We didn't buy it as a carpet cleaner but it's a huge benefit that it works so well there in addition to its normal cleaning.
Three Stars
I actually wish it was scented with an organic essential oil. It works OK.