It Works
It made shaving easier the first time I used it. I am 76 and those fine grey whiskers are now much easier to shave. Turns out I don't have to use it every time I shave. The effect lasts for a while. I use it as needed.
my norelco glides smoothly and no smell
Best electric pre-shave I've ever used
Good product
A few years ago after having a beard since the 1960's I decided to get rid of it.
I got an electric razor and it was barely ok. I discovered your electric pre-shave and what a difference. I get a much closer shave with much less irritation and no unwanted scent. It is a product that does what it promises.
Great product
Razor now glides effortlessly over my face, and gives a super-smooth shave.
And best of all, no nasty perfume like the major brands.
To start, the skin being shaved should be clean and dry. Dispense approximately a nickel-sized amount of product into the palm of your hand. Rub palms together and then apply to the area being shaved. Allow the splash approximately 60 seconds to set. Follow your regular shaving routine.
Wash thoroughly after shaving. This product contains lubricants which may leave a residue if not properly cleansed following your shave. Splash your face with cold water and pat dry. If you are new to electric shaving, there may be some discomfort for the first few weeks. This is normal and will typically go away a few weeks. Discontinue use if you experience and outbreaks or rashes.
Made in the U.S.A
Natural Citizen is a small, family-owned business. Our products are designed and crafted in the United States with a commitment to sourcing domestic components.
Free Shipping
We offer free shipping for U.S. orders over $35. You order is shipped with confidence using the world's premier e-commerce fulfillment partner.
1000's of Happy Customers
We have thousands of 5-star reviews going back to our beginnings in 2012. Your happiness is always guaranteed.
The Best Ingredients
Our policy regarding ingredients is simple: if leading health-focused grocery chains allow the ingredient, then so do we.
Electric shavers do not have to sacrifice a close shave for the convenience of electric shaving. The secret to a close electric shave is Old Ron's Electric Pre Shave Splash. The alcohol based splash strips oils away from the hair so that whiskers stand up taller, making for a cleaner cut. The added lubricants help your razor glide across your face so that you can take less passes and reduce irritation. Old Ron's Electric Pre Shave Splash is also fragrance free so this product will not compete with your other fragrance, such as cologne, or if you prefer to be fragrance free all together. Simply dispense about a nickel-sized amount of product into the palm of your hand, rub your hands together, then apply to your face and neck. Shave as usual, going against the grain. Lastly, wash your face with cold water to remove any excess lubricant, as it might leave a residue on your face. Finally, always keep your razor clean and change your blades regularly for best results.
Shaving can actually be traced all the way back to our Neanderthal ancestors. You see your razor every day, so why not learn about where it came from and its glorious history.
Read More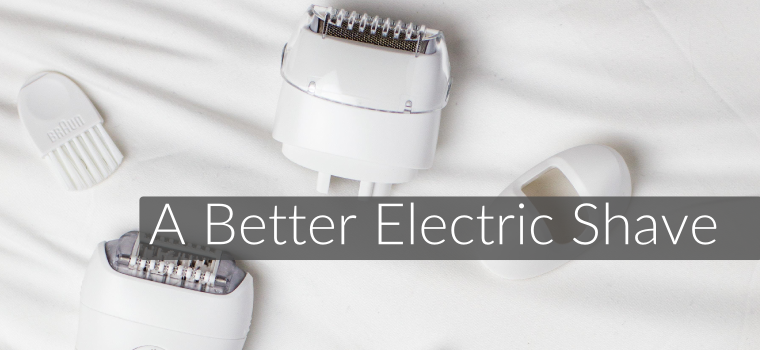 Prep for your next shave with an alcohol-based splash like Old Ron's Pre-Electric Shave Splash. A pre-shave splash will rid your whiskers of oil, getting them to stand up tall. This makes it easier for your electric razor to do its work properly. That old adage, the tallest nail gets hammered first, applies here!
Read More